The Best Sports ID You Can Buy Now in Silver
You need this ID even if you have one on your wrist.
We have a 100% Guarantee We will make it right. Just tell us what you need.
What's The big deal - "The self sealing custom label"
A clear poly seal covers all your ID & Medical information
This poly seal is waterproof making your information permanent
>This isn't your mothers plastic kitchen bag. This is pure custom engineering <
How much did you pay : Phone $200, Key fob $95, Credit Card $$$
Protect them with Bag it ID $ 7.95 - Priceless Buy it Now !

Compare $7.95 to just the cost of your phone / Keep it dry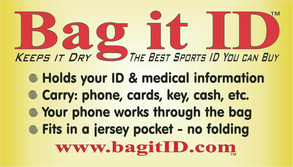 Other ID companies ask you to enter your ...information into their computer... We don't !
Key Points
1]
5
"x 8"
5 mil thick NYLON IN STRUCTURE
2]
No folding
it Fits in your Jersey pocket
3]
Water Proof self sealing Info label
4]
Use your
SmartPhone while in
our bag
5]
The"bag it ID"is touch sensitive
6]
PREMIUM Ziplock, ROUNDED Corners
7] Our pouches are USA made in our ISO 9001 / Certified Plant

8] Carry: Phone, Spare house key, Credit Card, Coffee club card, Cash etc.
9] The Multi Task - All Sports ID holds it all & Keeps it Dry!
---
Sometimes we need info fast


Not just a Name

Not just a Phone number
But all Your vital information

EMS needs to know NOW !That's why we developed Bag it ID
No one wants to get hurt - but let's help the person helping us !


"oh no! - How can we help?"

We have a 100% Guarantee

We will make it right. Just tell us what you need.

Direct E-mail

floridaron@bagitid.com